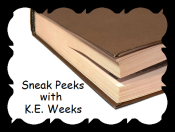 This feature is presented by guest blogger, K.E.Weeks.
The House of the Scorpion
by Nancy Farmer ($9.99; Atheneum Books for Young Readers; April 27, 2004) is an original science fiction/fantasy young adult novel, set in the not-too-distant future in the country of Opium, which is a collective of poppy farms lying between the United States and Aztlan (formerly Mexico). The largest farm is the Alacran estate, which is surrounded by bodyguards and the Farm Patrol, who watch over the eejits, humans with computer chips implanted in their brains to make them only capable of basic tasks, such as harvesting crops, until they have been worked to death. Eejits are captured illegal aliens escaping from Aztlan or the United States who have been surgically altered.
The story is told by an omniscient narrator, but follows the fortunes of Matteo ("Matt") Alacran, a clone of the rich estate landowner, El Patron. Matt lives on the family estate, but is shunned by most humans because he is a clone. The book details generations of twisted Alacran family relationships. Meanwhile, Matt puzzles out how he fits in this world, a world in which time has stopped. The estate is held in a time-suspended state, as life was 100 years ago in El Patron's village in Mexico. Celia, Matt's caregiver, cooks on a wood cook stove and the Farm Patrol ride horses, not hovercrafts.
The House of the Scorpion
is a compelling, page-turning coming-of-age novel about what can occur when an evil individual has the money and power to clone himself, resulting in everlasting life. The book is full of well-developed, interesting characters with detailed histories and fabulous, plausible plot-twists. It's understandable then, why the book has received so many awards, including the National Book Award Winner for Young People's Literature, the Newbery Honor Book, and Printz Honor Book.
At 400 pages, the book is substantial and worth the money. It is divided into sections: Youth: 0 to 6, Middle Age: 7 to 11, Old Age: 12 to 14, Age 14, and La Vida Nueva (The New Life). The novel contains a cast of characters and an Alacran family tree at the beginning to help the reader sort out the characters. It is quite useful for the first few chapters, but unnecessary as the reader becomes engrossed in the story.
The violence is mainly hand-to-hand combat or beatings, but there are also some pitiful medical experiments and drug-induced deaths, as well as alcoholism and mild animal cruelty. Additionally, there is some mention of adultery. The story is appropriate for upper middle school and high school readers. Students who are studying bioethics, socio-economic classes, environmentalism, or communism would find this book a worthwhile complement.
The House of the Scorpion
is unique and believable, as well as thought-provoking, and I recommend it strongly with five stars (out of five). Science fiction lovers will not be disappointed with
The House of the Scorpion
.
Disclaimer: The purpose of this review is to guide parents into selecting appropriate, significant, high-quality literature for their teens and tweens.
I have no connection with the author or publisher of this book. I am a home educator of two children, 11 and 14, with a Master of Art degree in American Literature and a keen interest in young adult fiction and nonfiction.