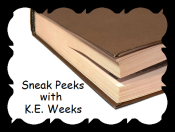 This feature is presented by guest blogger, K.E.Weeks.
Last week, I had the great privilege and blessing of seeing an interview with Louis Zamperini. The 95-year-old former Olympic runner and World War II prisoner of war was speaking at the Bonita Springs Christian Forum when I happened to be in Florida.
http://www.news-press.com/article/20120222/NEWS0102/302220037/Thousands-see-Louis-Zamperini-subject-best-selling-Unbroken-Bonita
He had just recovered from double pneumonia and was nursing a broken leg to boot.
While waiting for Zamperini to begin speaking, I had another experience that I must add, as it brought me to tears. The church was filled to capacity—3,000 people, 1,400 in the sanctuary and the remainder in overflow rooms, scattered around the church with closed-circuit TVs. Only a dozen or so were under 65-years-old, like me. The music director led the attendees in a rousing sing-along, beginning with some WII-era tunes and ending in a patriotic medley. As we began singing the themes for each branch of the military service, the director asked those who had served in that branch to stand. As we worked our way through "From the Halls of Montezuma" to "Anchors Aweigh" old men stood and saluted one another while the rest of us clapped. For the Coast Guard, the five-hundred or so people in the room applauded one man.
At the end, we all stood and recited the Pledge of Allegiance, followed by "The Star-Spangled Banner." I had never heard such a rousing rendition of our National Anthem.
Everyone
knew the words.
Everyone
was singing loudly and clearly. It contrasted so greatly with the half-hearted singing (or silence!) at youth football games and the screeching performances at Superbowl events.
I was so proud to be an American. It made me nostalgic for an era in which I never lived, an era in which patriotic traditions, such as learning the words of our anthem, were well-respected and drilled into every young child.
It was a fitting tribute for those who had come to see Louie Zamperini. Zamperini is the subject of the bestselling book
Unbroken: A World War II Story of Survival, Resilience, and Redemption
by Laura Hillenbrand* ($13.98; Random House; November 16, 2010).
In the interest of not spoiling the book for those of you who have not yet savored it, I hesitate to tell you too much. This is just the skeletal outline of the story.... (Skip the next two paragraphs if you just want to be surprised.)
Hillenbrand begins with Zamperini's childhood in Torrence, California during the Great Depression. The son of Italian immigrants, Zamperini is constantly in trouble with his parents and the police. In high school, he begins running to impress girls and discovers that all of the running from the cops has made him incredibly fast. He runs so fast that he qualifies for the 1936 Berlin Olympics, where he meets Adolph Hitler.
Later, he becomes an Air Force bombardier in the Pacific Theatre of WWII. During a rescue mission, his plane crashes over the Pacific and he is lost at sea for so long that he is declared dead. He ends up in a Japanese POW camp where he and his fellows face intolerable cruelty. When he returns from war, he struggles to overcome old demons until he meets evangelist Billy Graham.
If
Unbroken
were fiction, it would be deemed unbelievable. The proverb that truth is stranger than fiction, is more than proven with this book. I have two favorite parts in the book: First, where Louie and two other soldiers are trapped on a yellow raft in the ocean when Louie hears angels singing, and second, when Louie realizes that he has made a promise to God, one he has not kept, as described in this quote:
A memory long beaten back, the memory from which he had run the evening
before, was upon him.

Louie was on the raft. There was gentle Phil crumpled up before him, Mac's breathing skeleton, endless ocean stretching away in every direction, the sun lying over them, the cunning bodies of the sharks, waiting, circling. He was a body on a raft, dying of thirst. He felt words whisper from his swollen lips. It was a promise thrown at heaven, a promise he had not kept, a promise he had allowed himself to forget until just this instant: If you will save me, I will serve you forever. And then, standing under a circus tent on a clear night in downtown Los Angeles, Louie felt rain falling (Hillenbrand).
Unbroken
is nonfiction and about the trials of POWs, so as one would expect, there is a
lot of violence, torture, starvation, and suffering. Overall, the violence tends to be the type of cruelty that can be delivered with a fist, swift kick, or a wooden plank than with bullets. For this reason, I would not give the book to a student under fourteen years old. However, there is also kindness, humor, simple pleasures, and unbelievable forgiveness. Hillenbrand describes the POWs' suffering, but she does not wallow in it, and she adds anecdotes that demonstrate human dignity and compassion, even in horrifying circumstances.
Hillenbrand has a knack for making even the "slow" parts of the book compelling and funny. For example, the book describes statistics of the different planes flown in the Pacific Theatre. This is important for understanding the storyline later, but can get dull for those of us who aren't aviation aficionados. Still, I was able to plow through the descriptions of B-24 bombers and B-25 bombers without my eyes crossing. A student who likes planes and aviation would love this part. If your student is studying WWII,
Unbroken
will illuminate the less-well-known Pacific Theatre of War.
The book contains photos of Zamperini in his youth, as well as his comrades in arms, maps, and detailed research notes. Hillenbrand took seven years to write this book. She meticulously researched every fact and compiled the story from seventy-five interviews with Zamperini and dozens of others with his family, friends, former POWs, POWs' children, and experts from Japan and the United States. The book is an exhaustive 496 pages.
I highly recommend buying the hardback instead of the Kindle version. I bought the Kindle version, and now regret it, as I found it difficult to see the photos clearly and I am now unable to lend the book to others. This is a book you will want to share with everyone you know!
At heart,
Unbroken
is not only a survival story, but a story of forgiveness, both of God's Grace and man's forgiveness of others.
Unbroken
is among one of my all-time favorite books. It is a life-changing story that should be required reading for every high school young man. Without hesitation, I give it five stars (out of five).
Mr. Zamperini is a testament to the human spirit. He says the most important thing in life is to face every circumstance with a cheerful countenance. Coming from someone who has experienced as much hardship as Mr. Zamperini has in life, this is inspiring advice, indeed.
Disclaimer: The purpose of this review is to guide parents into selecting appropriate, significant, high-quality literature for their teens and tweens.
I have no connection with the author or publisher of this book. I am a home educator of two children, 12 and 14, with a Master of Art degree in American Literature and a keen interest in young adult fiction and nonfiction.
*Affiliate link