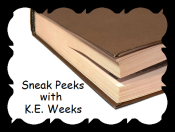 This feature is presented by guest blogger, K.E.Weeks.
It's always a thrill to find a book that is signed by the author, so I was tickled when I opened my inter-library loan copy of
In My Hands: Memories of a Holocaust Rescuer
by Irene Gut Opdyke ($7.99; Laurel Leaf: 2004) to find the author's signature tucked inside the cover. The book was addressed to someone, and then donated, I suppose. A signature makes the reader feel closer to the author. At one point, Irene Gut Opdyke touched
this copy
of the book. It's exhilarating to contemplate. After reading her memoirs, I'm convinced Opdyke would be an interesting person to meet.
While I have read a lot of Holocaust memoirs, all of them—except
The Hiding Place
by Corrie Ten Boom—have been from the Jewish perspective, the perspective of the person being saved.
In My Hands
is different, then, because it is from the perspective of a Christian Polish woman who risks her life to save a dozen Jewish people from the hotel complex where she works, right under the noses of the German officers housed in the complex. In the pages, the reader can feel her fear and concern for her refugees, as well as the heart-wrenching suspense where even a cough can result in discovery and death.
This quote from the book is one of my favorite parts:
I did not ask myself, Should I do this? But, How will I do this? Every step of my childhood had brought me to this crossroad; I must take the right path, or I would no longer be myself.

You must understand that I did not become a resistance fighter, a smuggler of Jews, a defier of the SS and the Nazis all at once. One's first steps are always small: I had begun by hiding food under a fence. Now I was making plans to get a dorozka, a wagon, from the farm where Helen lived, and to transport in secret the Morris brothers and their wives....I might as well be hanged for a sheep as for a lamb. The Nazis did not distinguish between leaving food under a fence and smuggling four people in a dorozka, and so I did not either (Opdyke 142-143).
One of the intellectual pleasures of this book is contemplating how the reader would react to the situation. Would you hide Jews or other refugees in your home? Would you risk your life repeatedly to bring Jewish strangers food in the ghetto? Would you drive to a seemingly deserted forest alone and leave food for strangers? Would you sleep with the enemy in exchange for your friends' lives? They are intriguing questions without easy answers. And, it may be, that none of us would know what we would do unless we were faced with such a situation. Still, it is fascinating to consider....
As you would imagine based on the subject matter, the book has some horrific descriptions of Jewish executions and other atrocities. Although these descriptions are not overly detailed, they are too raw for a youthful audience. This book is well suited to 10
th
– 12
th
graders and adults. The book has a dozen black-and-white photos of the primary people mentioned in this segment of Opdyke's life. There are pronunciation guides for the Polish and German words and two maps of Poland to help track Opdyke's travels.
And yet, there were parts of the book that I didn't like. I wasn't overly fond of Opdyke's partisan adventures, where she lives in the forest with Polish rebels, fighting for her country's freedom. Although the cause may be admirable, it pales in comparison to her other brave actions to save the lives of more than a dozen Polish Jews. Moreover, the years spent living as a resistance fighter, sabotaging the Germans and the Russians are not as well described as the years Opdyke spends helping her fellow human beings. For this reason,
In My Hands
isn't one of my
favorite
WWII memoirs, but I still enjoyed it
greatly, and I energetically recommend it, giving it five stars (out of five).
Disclaimer: The purpose of this review is to guide parents into selecting appropriate, significant, high-quality literature for their teens and tweens.
I have no connection with the author or publisher of this book. I am a home educator of two children, 11 and 14, with a Master of Art degree in American Literature and a keen interest in historical fiction for young adults.