When we were new homeschoolers and I was toying with the idea of a Classical Education, Memoria Press was a name mentioned to me early on. Furthermore, their Latin program for elementary students,
Latina Christiana
was one that I had received good reviews from friends that had used it. Cheryl Rowe, the author of
Latina Christiana
, has since authored
First Form Latin
, part of a 4-book series for grades 5 and up.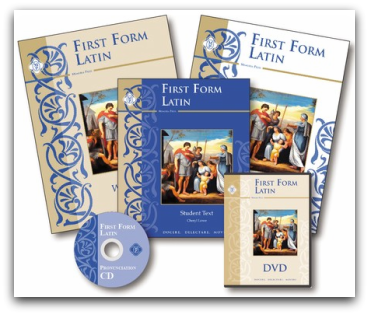 I received the following items in my review package:
Teacher Manual
Student Text
Student Workbook
Quizzes and Tests
Teacher Workbook & Test Key
Pronunciation CD
Flashcards
DVDs
Wow! It was quite the package. My first impression pulling the items out of the box was that the texts looked very professional, academic, organized, and thorough.
First Form Latin
focuses on grammar and vocabulary, following the sequence of Classical Education. Regardless of age, new learners of the language start with the grammar stage because that is the current stage of learning as a beginner.
The program will work for instructors with no Latin background, but only if you, as the teacher, are willing to learn along with your student(s). With the support materials, this is certainly obtainable, if you are patient (and the Teacher manual suggests calm as well!). The support materials are extensive, and everything needed for successful learning is provided. Scripted lessons, schedules, pronunciation reminders, teaching tips, answer keys, games and reviews activities, and more are all included. Going through the materials, I found that my first impression of a very organized program was true, and then some.
First Form Latin
's lessons are written for a classroom, but are very adaptable for one student. It is encouraged to use the program with others, whether that class is siblings or as a class with friends and fellow homeschoolers. Learning a language as a group makes it more interesting and fun.
Each week's studies consist of five parts:
Lesson
Workbook
Oral Drill
Quiz or Test
(optional) Lingua Angelica and/or Famous Men of Rome, or other history resources
Expect to devote around 3 hours a week using the program, plus additional time if adding history resources.
Sample pages and a Table of Contents are available by clicking below.
Student Text
Student Workbook
Teacher Manual
Table of Contents
The DVD lessons, taught by Glen Moore, run around 15-20 minutes per lesson. As someone with zero Latin background, I highly recommend purchasing the DVDs to go with this program. It is doable without them, but definitely worth the investment to have them available. I learned quite a bit from the lessons I watched. A sample from Lesson 8 can be viewed below.
After mastering
First Form Latin
, the student will have a solid grasp on the six indicative active tenses of the first two verb conjugations, five noun declensions, first and second declension adjectives, and 185 vocabulary words. After completing the series, which also includes
Second Form Latin
,
Third Form Latin
, and
Fourth Form Latin
, a student will have completed all of Latin grammar.
First Form Latin
alone is equivalent to one year of high school foreign language.
While the program states it is for beginning students grades 5 and up (or younger if they've completed
Latina Christiana
), I felt the bar was set pretty high and many students in the younger range would not be ready for the program. It is a solid study of Latin, and students need to be prepared for the discipline and memorization to be successful. I didn't feel my particular 7th grader, whom struggles in the language area, was anywhere near ready. My advanced 9th grader, on the other hand, would have been ready for this program at 5th or 6th grade. At this point, now in her fourth year of high school Latin and second year of Latin literature study, is beyond the material. Since she is now our "resident Latin expert" (and I am definitely not), I had her review the program with me and give her opinion.
She felt the program is very thorough and covers the amount of grammar similar to her first year of high school Latin. However, in her opinion, there is too much emphasis on charts and memorization, and not enough of seeing the language in action. This is a bit different from the teaching approach to which she is accustomed (a blend of immersion and memorization, with a heavy dose of history and side projects thrown in) and not as suitable to her learning style. A student that likes a very systematic and textbook format will likely find the approach of
First Form Latin
more appealing. As far as the DVDs, she found the instructor presented accurate teaching, was engaging, and looked a bit like Peter Parker from Spiderman. :) So, not only do you have a thorough and well-organized Latin program, you get to enjoy an engaging presentation of the material from a superhero look-alike as well!
Overall, I liked the looks of this program. If learning Latin is part of your homeschool goals,
First Form
Latin
is certainly worth checking out. I recommend that you explore the sample pages and DVD lesson segment to gauge whether you and your student are ready for this level of study, as well as if the style suits your needs. You may also want to
read the reviews of other TOS Crew members
that used the program with their new Latin learners.
First Form Latin
is available from Memoria Press in two different packages. The first package includes all the teacher and student texts, plus the Pronunciation CD, for $55. You may also purchase the material of the first package, plus flashcards and the DVDs for $115. Visit the
Memoria Press website
for information on First Form Latin and other programs for a Christian classical education.
Disclaimer: This review was provided as a result of my participation in The Old Schoolhouse Magazine Crew. I was provided the product free of charge in exchange for my honest review. I have received no other compensation. I strive to give a balanced overview of each product, detailing my opinion of both pros and cons and how the product worked for my family. What works for one family may not work for another. I encourage you to read reviews of other Crew members and research sufficiently to determine if any product will be a benefit to your homeschool.