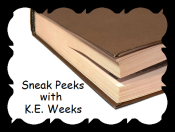 This feature is presented by guest blogger, K.E.Weeks.
Laurie Halse Anderson is one of my favorite historical fiction novelists. Although she has only written three "historical thrillers," as she calls them, they are exceptional, and I can't wait to read more. I am eagerly awaiting the next book in her "Seeds of America" series, which I am hoping will be released soon. The first two books,
Chains
($6.99; Atheneum Books for Young Readers; January 5, 2010) and
Forge
($11.55; Atheneum Books for Young Readers; October 19, 2010) are fabulous, comparable to
Johnny Tremain
by Esther Forbes and Lynd Ward.
The series begins with
Chains,
set in New York City in 1776. The protagonist Isabel, a thirteen-year-old slave, and her sister Ruth are sold to a Loyalist couple, after being promised freedom by their dying mistress. Spirited Isabel will do anything to secure freedom for herself and her mentally-handicapped sister, including spy for the Patriots. She is a well-developed character, with strengths and weaknesses, not just a caricature who acts for the sake of teaching about a historical period, as some characters do in young adult historical fiction. In fact, most of the characters in the novel are well-developed.
Every chapter begins with a quote from a primary source document, such as Thomas Paine's
Common Sense
and or a Revolutionary War journal. The book is well-researched and steeped in history. I like the way each chapter is dated, such as "Friday, June 7, 1776," in an old-fashioned typeset on rough-cut paper. The book details life as it was lived in the Colonial Period, including common chores, which adds to the realism and usefulness as a teaching tool. For example, Isabel says,
"I was stuck on the back steps with a pile of dull knives and a whetstone. It was a dreary job. First, spit on the stone. Next, hold the knife at the proper angle and circle it against the stone; ten to the left, ten to the right, until the blade was sharp enough to slice through a joint of beef like it was warm butter" (Anderson 53).
Isabel's desire to escape builds throughout the book, increasing the suspense and making for a climactic and unpredictable ending. While there are some horrific parts to the book, including a "branding" with a hot iron, overall it is suitable for 5
th
– 10
th
grade.
Chains
is a wonderful supplement to the study of the Revolutionary War, as it demonstrates the shifts in power between the Loyalists and the Patriots in NYC.
The story continues with
Forge
($11.55; Atheneum Books for Young Readers; October 19, 2010).
However, in
Forge
, the point of view and setting change. The protagonist is now Curzon, a young male slave and Isabel's friend introduced in
Chains
, who has been sent to fight in the Revolutionary War in his master's stead, with the promise of his own freedom when his military service ends. When it becomes clear that promise will never materialize, Curzon plots to escape. The majority of the book takes place in Valley Forge during the winter of 1778, and a nice map of the encampment of the Continental Army at Valley Forge in 1778 is included in the front of the novel.
Forge
, too, begins each chapter with a primary source document quote. While I have read accounts of the winter at Valley Forge before, Anderson's book makes the experience come alive. The descriptions of the hardships suffered by the soldiers are much more moving than in other young adult literature I have read. In describing firecake, the primary food eaten by the soldiers that winter, Curzon says, "I'd expected to smell bread, for bread was little more than flour and water. Instead, the firecakes gave off a scorched smell, like damp charcoal. The thinnest of the smears caught fire right atop the rock" (Anderson 83).
At first, I was put off by the change in narration. I liked Isabel, and it was hard to switch to Curzon in the second book. Also, Anderson seems to take a few chapters to warm up to this character, as if she is not entirely certain of his "voice." However, eventually I came to be fond of Curzon, as well. Readers would be wise to persevere, as it is worth the effort.
The only other qualm I have about
Forge
are the sections titled "Before." In an apparent attempt to make
Forge
a stand-alone book and to answer some questions that readers may have about Curzon's past, Anderson has chosen to put these flashbacks into separate chapters. While it might help struggling readers to be able to distinguish between past and present, the constructions are awkward and jarring. I think they would have been better had they been woven into the main storyline, through a flashback, Curzon's thoughts, or a conversation with another character.
As in
Chains
,
Forge
contains some violence, but it is not excessive, and seems appropriate to the story. It, too, is suitable for 5
th
– 10
th
grade. I heartily recommend both
Chains
and
Forge
. I give
Chains
five stars (out of five) and
Forge
four stars (out of five). If you are looking for a great "living books" series on the American Revolutionary War, look no further. The Seeds of America series will more than satisfy.
Please note that I have not read Anderson's modern novels, and I don't think I will, as I don't care for books that focus on school. I mention this so readers of this review won't assume that my endorsement of Anderson's historical novels are endorsements of her other books, including
Speak
and
Catalyst
. Her modern-era books address raw problems, like rape and suicide, through the eyes of high school student characters submerged in mainstream culture. If you would like to learn more about Anderson and her books, visit her website at
http://madwomanintheforest.com/
. Her website, especially the part on censorship, is very interesting.
Disclaimer: The purpose of this review is to guide parents into selecting appropriate, significant, high-quality literature for their teens and tweens.
I have no connection with the author or publisher of this book. I am a home educator of two children, 11 and 14, with a Master of Art degree in American Literature and a keen interest in historical fiction for young adults.