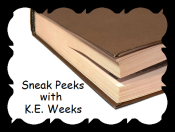 This feature is presented by guest blogger, K.E.Weeks.
I found the book
Milkweed
by Jerry Spinelli ($8.99; Ember; March 23, 2010) in the Tween section of the local library. Tween is typically classified as ages 9 – 12 years old. Oftentimes, tween books are shorter than teen books, too, which, at a little over 200 pages, would include
Milkweed.
It quickly became apparent, however, that
Milkweed
is not a book for tweens, or even thirteen- or fourteen-year-olds. It is a book about children for older teens or adults. It is an artistic, sophisticated book, but not one that anyone under fifteen would enjoy.
The narrator is a tragically naive, uneducated, borderline crazy eight-year-old orphan boy coming of age in Warsaw, Poland during World War II. He knows nothing beyond cold and hunger. He thinks that the march of Nazis into Warsaw (Jackaboots, as he calls them) is a parade. He has never seen a camera and doesn't know what one is until it is "shooting" his friend. He doesn't know about medicine, birthday cakes, hardboiled eggs, or even what "happy" means. Surprisingly, he doesn't even have many survival or intuitive instincts one would expect from a street urchin, such as to hide in the face of danger.
He lives in city rubble by luck, theft, and the kindness of others. At the beginning, he does not have a name. An older boy, Uri, takes him under his wing and asks, "What's your name?" The narrator answers: "Stopthief." Uri names the boy Misha. Uri thinks Misha is a gypsy, but Misha ends up in the Jewish Ghetto anyway. Misha smuggles food into the Ghetto because he is small, fast, and able to squeeze through a two-brick-wide hole. Eventually, he is "adopted" by a little Jewish girl and her father.
The book unfolds as a tale of Misha's WWII experience, but without prior historical knowledge, a reader would not be able to decipher Misha's descriptions. As the book progresses, the narrator describes more graphic details, including beatings, starvation, illness, hangings, and death by flamethrower.
Seven-eighths of the way through the book, Misha ends up on a farm where he waits out the remainder of the war working as a farm hand. He lives on the farm for three years, and yet the experience barely encompasses two chapters. This is where the story gets truly strange. (Spoiler Alert) After the war, Misha becomes a carnival hawker, saves enough money to buy a ticket to America, and then becomes a street hawker. He marries a woman, fathers a daughter (though he doesn't know it), gets divorced, goes crazy, and then ends up in an armchair in his daughter's living room comforting his granddaughter after a fall and reaching a sense of peace. The ending is utterly incongruous with the rest of the story and comes across as "tacked on." Spinelli is obviously a talented author, but the conclusion gives the reader the impression that he lost interest in the story or did not know how to end it. The conclusion is confusing and disappointing.
After I wrote the bulk of this review, I checked out the ratings of the book on Amazon.com. Overall, the ratings are overwhelmingly excellent (4-5 stars), which baffled me. While the book is well-written, it is bizarre and too artsy, almost pretentious. However, when I dug deeper, and read only the
low
rated reviews (1-2 stars), I noticed a pattern. All of these were "Kid Reviews." It confirmed my initial findings. This book is not one young people would enjoy.
There are so many better WWII Holocaust fiction and non-fiction books for young adults—such as
Black Radishes
,
Number the Stars, Escape from Warsaw,
and
The Diary of Anne Frank
—that I cannot recommend this one. Although I appreciate the interesting, "flawed narrator" perspective in
Mlikweed
, I do not like the book. It reminds me of going to the opera; I can appreciate the artistic elements and work that goes into it, but I am never swept away by the performance. I rate
Milkweed
two stars (out of five) because the ending is terrible, and the book fails to be appropriate or satisfying for its intended audience.
Disclaimer: The purpose of this review is to guide parents into selecting appropriate, significant, high-quality literature for their teens and tweens.
I have no connection with the author or publisher of this book. I am a home educator of two children, 11 and 14, with a Master of Art degree in American Literature and a keen interest in historical fiction for young adults.