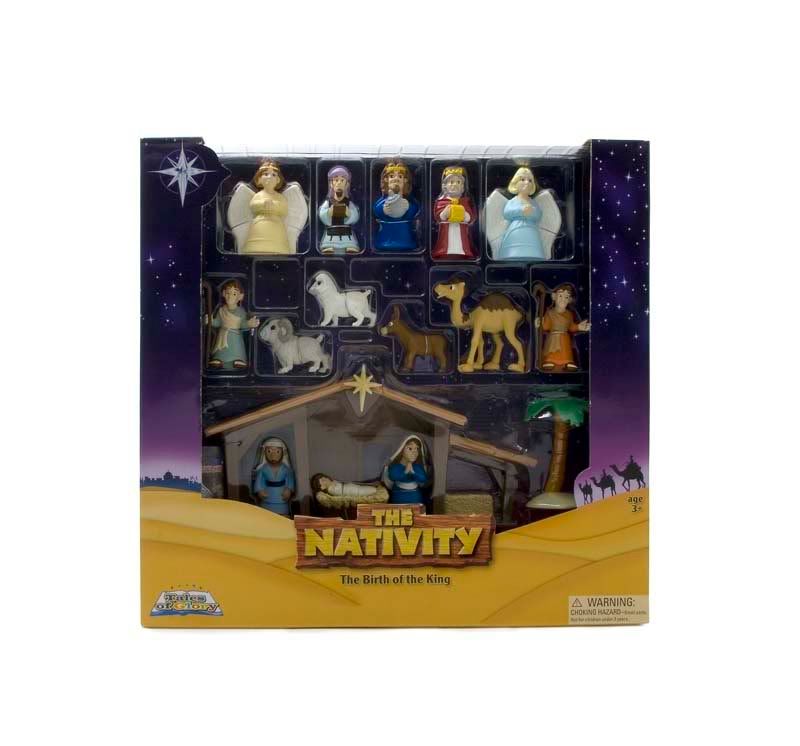 Normally, I'm resistant to early displays of Christmas, which are
usually more a display of commercialism than the true meaning of
Christmas. What's with the 8ft snowmen that start donning the shelves
of retail stores in July? However, I had a welcome taste of Christmas
in October upon the arrival of my next review item, a nativity set
from One2Believe.

Gone are the days of the no-touch nativities. Made of durable PVC
plastic, this adorable nativity set is made to be loved and enjoyed by
children over the years. In addition to a sturdy stable, figures
included are: Mary, Joseph, Baby Jesus, a manger, three wise men, two
angels, two shepherds, two sheep, a camel, a donkey, a palm tree and a
bale of hay.

I showed this set to both adults and kids and found the results to be
quite entertaining. "It's too Anglo-Saxon," was the first adult
comment received. "Poor Mary!" exclaimed the women when they saw the
proportion of Baby Jesus to Mary. Proportions were further discussed
when it was noted that the donkey was awfully small to be lugging a
very pregnant young woman to Bethlehem. No wonder adults don't play
with toys – they are too busy being analytical rather than engaging
their imagination. The only issue the adults noted that would actually
affect playability was the fact that Joseph was a little wobbly on his
feet. Wouldn't you be if your wife just gave birth to the Messiah?!
Perhaps this set is more realistic than these adults thought. Next,
let's bring the intended recipients of this toy, the children.

Now, my kids are ages 9 and 11, both at least half way to adulthood.
As a result, they had some of the same adult comments. However, the
analysis was quickly ditched for giggles over the smiling camel and
the donkey whose eyes were popping out. I think the donkey is just as
amazed as Joseph. And then it happened - my half-adults started
playing. They played nearly 20 minutes until it was time to rush out
the door for church. The next day we had seven young guests, ages
8-13, in our home. I had set out the nativity to see what attention
it would get. When the kids spotted this comical nativity set, it was
soon put into action.
Obviously the adults don't know anything. This
set is a child-pleaser! I can only imagine how it would light up the
faces of even younger children.

One2Believe has made a nativity that will last years and years. It
can be displayed for little hands to use during free play or used in a
more structured setting as a visual aid for teaching the Christmas
story. It would be a wonderful choice for a gift for the little
people in your life as well as a donation to any church nursery or
Sunday school room. You can make your purchase at One2Believe
for $24.99. Be sure to check out their other Biblical sets and
characters. Let the adults keep their fragile display sets and give
this welcoming set to kids of all ages to keep the true meaning of
Christmas alive.