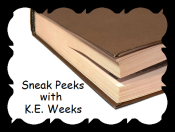 This feature is presented by guest blogger, K.E.Weeks.
When I noticed Gloria Whelan had written a new book, I snatched it up. Whelan is one of my favorite Young Adult authors. The book,
Small Acts of Amazing Courage
($15.99; Simon & Schuster/Paula Wiseman Books; April 19, 2011), is set in India in 1918, six months after the end of WWI. Rosalind, the fifteen-year-old daughter of a British officer, has lived her whole life in India, but now is faced with the possibility of being sent to England for school because of her involvement with protests against British colonialism.
Rosalind is caught between two cultures: the one she has lived and the one her family calls "home." She wants to continue to interact with her Indian friend and make a difference in the lives of the common Indian citizen, but British society expects her to behave as a proper lady, whose sole interests should swirl around fashion, bridge, and entertaining at the British country club.
The setting and time period of the story is unique and interesting. Few Young Adult novels focus on WWI or its aftermath. Even fewer are set in India at that time. Whelan is an excellent writer, and as always, her story is well-written. She knows how to give just enough detail and description to paint a scene without losing a young reader.
Small Acts of Amazing Courage
would be a good book for those students who are studying Gandhi, as the book features him in several places and gives a sense of what life in India was like when he was preaching.
The book reminds me of
Homeless Bird
, Whelan's National Book Award-winning novel about the caste system in India and a young woman in an arranged marriage (
http://www.amazon.com/Homeless-Bird-Gloria-Whelan/dp/0756908426/ref=sr_1_1?ie=UTF8&qid=1328644048&sr=8-1
). If you liked that book, you will likely enjoy
Small Acts of Amazing Courage
, although
Homeless Bird
was a better book overall.
Small Acts of Amazing Courage
is a gentle book targeting 5
th
– 8
th
grade girls (and intellectual boys), with few offensive elements.
Some parents may dislike this story because Rosalind repeatedly disobeys her parents, aunts, and other adults, sometimes more out of boredom or loneliness than a compelling, moral reason for doing so. However, later in the book, it is clear that Rosalind feels remorse for the times she has disobeyed out of rebellious curiosity versus a compulsion to do what is right. In addition, the novel presents some interesting dilemmas related to authority, obedience, control, dependence, and independence, as well as some nice symbolism. For example, in this paragraph, Rosalind thinks to herself:
How did you separate yourself from others who wanted to make decisions for you? Some of them, like Aunt Ethyl, might just want to control you, but others, like Father, might know more than you did and only want what was best for you. I wished that, like Mrs. Blodget, I had William with me to tell me what to do. But then, wasn't that what a conscience was for, and what if my conscience and Father's were different? When was I old enough and wise enough to listen to my own? (Whelan 199)
Despite the positives, the story seems to struggle at the end. The pacing appears to be "off." It's almost as if the book had much more to tell. (Perhaps Whelan plans to write a sequel?) Also, the characters are not quite as developed as they could be. Characters pop in and out of the story—her Indian friend Isha, the orphanage director Mrs. Nelson, the love interest Max Nelson, and even Rosalind's parents.
Spoiler alert!
Rosalind travels to England, but her time there is so incredibly short that it is unrealistic. It feels as if Whelan rushed through the conclusion in order to return her to India, and the result is a relatively unsatisfactory conclusion. All of these problems could likely be solved with a slightly longer, more developed book with a more natural pace.
Another thing that I dislike about this book is its cost: $16! This seems outrageously steep to me for such a short hardback book. While the book is 217 pages, it is small, almost square—7.4" x 5.7". This is Whelan's trademark size, which is attractive. However, if the book were in a traditional, trade paperback size, it would contain half that many pages. The book is not long enough to warrant the price tag. While the Kindle version is more reasonable at $10, I would wait for the paperback version, which will, hopefully, come in under $7.
Small Acts of Amazing Courage
has the makings of an award-winning historical novel, but falls short in pacing, plotting, and characterization. Still, Whelan's excellent descriptive writing and snappy dialogue compensate for most of the weaknesses, and I give it four stars (out of five). You can read more about Gloria Whelan at her website
http://www.gloriawhelan.com/
.
Disclaimer: The purpose of this review is to guide parents into selecting appropriate, significant, high-quality literature for their teens and tweens.
I have no connection with the author or publisher of this book. I am a home educator of two children, 12 and 14, with a Master of Art degree in American Literature and a keen interest in young adult fiction and nonfiction.