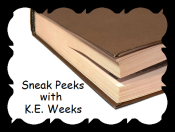 This feature is presented by guest blogger, K.E.Weeks.
I thought the title of the historical novel
Revolution Is Not a Dinner Party
by Ying Chang Compestine ($8.99; Square Fish; September 29, 2009) was catchy and liked it even more when I realized it came from a quote from China's Chairman Mao's
Little Red Book
:
A revolution is not a dinner party, or writing an essay, or painting a picture, or doing embroidery; it cannot be so refined, so leisurely and gentle, so temperate, kind, courteous, restrained, and magnanimous. A revolution is an insurrection, an act of violence by which one class overthrows another.
– Chairman Mao
My mother brought me a copy of Mao's book, along with other souvenirs, when she went to China ten years ago.
Upon this foundation, then, the author tells the story of nine-year-old Ling Chang during China's Cultural Revolution in the late 1960s to mid-1970s. Ling's parents are both doctors, and they live in the staff apartments of #4 City Hospital in Wuhan City, China. When Comrade Li moves into a room in the family's apartment, their lives begin to deteriorate as they lose their freedom of speech, as well as much of their property. Li metes out punishment to Ling's parents for being part of the "bourgeois," educated class, while Li struggles to hold her own in school and find enough to eat. One learns later that the story is similar to the author's life and many of the details in the novel are based upon true events.
At first, the author seems to have difficulty putting herself in the shoes of a nine-year-old, asking silly questions and behaving overly naively, but as the character ages, Compestine seems to warm to her subject and the book's action increases. The details of the book and plot are interesting and unique; I did not learn about China's Cultural Revolution until I was an adult and few tween books tackle this topic. The description is clever, such as "My fear for Dr. Wong and Father tore at me like rats tearing at a rice sack" (Compestine 65).
The first two-thirds of the book has little violence (only the forced cutting of women's hair), but as the tension builds, so does the bloodshed.
Spoiler alert!
The most shocking event is the suicide by hanging of a neighbor woman, which the reader does not "see," but sees her corpse taken away afterwards.
The novel is well-suited to 10 – 14 year olds, though older students studying China's Cultural Revolution may find it interesting and enlightening. The book presents situations that spark thoughtful questions, such as: What would you do if friends and neighbors were being tormented by a cruel government, if anything? Would you lie for food? What does it mean to be free? What is the impact of class warfare? Is there a good reason why doctors earn more than janitors?
The book contains some basic maps of Wuhan City and a short historical background of China's Cultural Revolution, as well as the author's note.
Revolution Is Not a Dinner Party
is reminiscent of
Red Scarf Girl: A Memoir of the Cultural Revolution
by Ji-Li Jiang, but not quite as sophisticated or detailed as that book (
http://www.amazon.com/Red-Scarf-Girl-Ji-li-Jiang/dp/B000OEFG3S/ref=sr_1_2?ie=UTF8&qid=1329191113&sr=8-2
).
I rate
Revolution Is Not a Dinner Party
four stars (out of five), mainly because the author's experience gives the book authenticity. Moreover, it is a good introductory book for younger students studying China, Mao, communism, and the Cultural Revolution because it explains the situation in terms younger kids will understand and the violence is not as graphic as it could be.
Disclaimer: The purpose of this review is to guide parents into selecting appropriate, significant, high-quality literature for their teens and tweens.
I have no connection with the author or publisher of this book. I am a home educator of two children, 12 and 14, with a Master of Art degree in American Literature and a keen interest in young adult fiction and nonfiction.