Do you send out Christmas cards? A few years ago, I would have thought that a strange question. Doesn't everyone send out Christmas cards? After watching my mom fuss over getting a multitude of Christmas cards addressed and stamped each Christmas season, I just considered it a required part of the Christmas festivities. That was, until last year.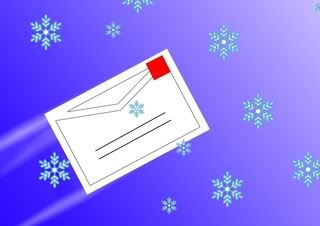 Last year money was tight. I just didn't see spending money on Christmas cards that everyone would throw out in two weeks, in addition to the postage. We could use that money for a gift for someone...or groceries. So, I broke out of the Christmas card obligation and didn't send a single Christmas card. I almost felt like I was committing some Christmas sin. No Christmas cards? What a grinch! You know what? No one called me to complain they didn't get a card. No one had a ruined Christmas because I didn't add to the pile of Christmas cards. No Christmas curse was cast upon me. It really was ok. In fact...it was quite liberating.
I noticed that we received considerably fewer cards last year. I assume many others made the same financial decision. The trend has continued on this year as well. It might be the result of the 'ole if-you-don't-send-me-one-I'm-taking-you-off-my-list-next-year situation. That is entirely fine. I really don't want to send cards based on the Rule of Reciprocity anyhow. What is the point in that? I'll wish you a Merry Christmas on paper if you do the same? I'll admit, some of my Christmas card deliveries were based on the Rule of Recriprocity guilt. Sort of along the lines of, "Even though I haven't talked to Sally in 10 years, despite her living 5 miles from me, I should send her a card because she sent me one." In reality, Sally was afraid to take me off her Christmas list, too. It just seems, well, a tad silly. The decrease may also be because others may still be in a financial bind. Or, some may have come to the same realization as me - not sending out cards isn't the equivalent to turning green and trying to ruin Christmas for everyone.
I know some enjoy sending out cards and I think that is great; I do like receiving them. Some years, though, it is simply a chore and a last minute duty. I never seem to have my act together enough to enjoy it, but always thought I
had
to. So, you won't be getting any cards from me this year. In fact, you probably won't be getting any from me next year. It doesn't mean I'll never send out Christmas cards again. It simply means I've decided that supporting Hallmark is no longer a Christmas requirement. I still wish everyone a Merry Christmas, card or no.