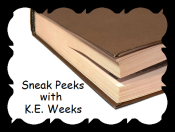 This feature is presented by guest blogger, K.E.Weeks.
While the pain of every survivor is individual and personal, many Holocaust memoirs relate similar tales and situations.
The Seamstress
by Sara Tuvel Bernstein with Louise Loots Thornton and Marlene Bernstein Samuels (Berkley
Trade, 1999, $10.88) is different. First, it covers more of the author's life than most memoirs, including her childhood and adulthood long after surviving World War II. The reader is able to see the contrasts of her life before and after the war, as well as how the war changed the trajectory of her life.
Secondly, Seren Tuvel is a Jewish girl from Romania, a part of Europe that is rarely discussed in Holocaust memoirs, though it was equally touched by the war. Seren, who is a teen when the war begins, uses her talents as a seamstress and her cleverness to stay alive from her time in her home village near the Carpathian Mountains to Bucharest to Budapest and, eventually, to the women's work camp Ravenbruck in Germany, near Berlin. The book would provide a good starting point for a study of European geography.
Lastly, this story is one of hope and determination. It is inspiring to see how one woman's sheer willpower kept her and her companions alive despite starvation and deplorable conditions. Berenstein tells her story in a straightforward, practical manner, without hatred or bitterness.
The only criticism I have of the book is that time is not more clearly marked for the reader. It would have been helpful if every chapter would have started with the month and year of that portion of the narrative to give the reader a reference point.
The book includes several black and white photographs, scattered throughout, which is nice. Berenstein's co-author and the president of the World Jewish Congress provide two introductions and Berenstein's daughter pens an afterward. These can be confusing and might be better read after completing reading the main narrative. There are two maps included: Europe in 1923 and again in 1942. It is an enlightening comparison!
While the book was voted one of the American Library Association's "Top Ten Best Books for Young Adults," this book is not for children. It contains brutal violence, death, and suffering. Although the violent scenes are not described in a vivid manner nor dwelled upon, I would discourage parents from giving it to any child under 14. It is an excellent book, and I highly recommend it for a mature high school student or an adult.
I would include
The Seamstress
among my all-time favorite books (and I have read
a lot
, so this is high praise). I give it five stars (out of five). Tuvel teaches by example: "Always be prepared, always plan ahead, anticipate, be ready, don't depend on anyone but yourself, be inconspicuous, be observant, and always stay alert." Good advice in a dangerous world.
Disclaimer: The purpose of this review is to guide parents into selecting appropriate, significant, high-quality literature for their teens and tweens.
I have no connection with the author or publisher of this book. I am a home educator of two children, 11 and 14, with a keen interest in historical fiction for young adults.