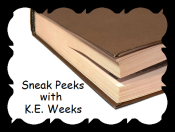 This feature is presented by guest blogger, K.E.Weeks.
"I never thought it would happen to me" begins the book
Small Steps.
Isn't that the way it always goes? We never think we'll have to deal with illness, tragedy, or hardship in our lives. But unless you live your life in a bubble, at some point, "it" does happen to you. And then what...? It is what happens next that separates the wheat from the chaff. Will you take on the role of victim or victor?
Peg Kehret, author of
Small Steps: The Year I Got Polio
(Albert Whitman & Company, January 2006; $10.85), chooses to be the victor. This superb autobiography describes how Kehret survives and, eventually thrives, despite becoming almost-fatally infected with polio at twelve years old.
In the fall of 1949, Kehret contracts polio, and ends up quarantined in the hospital for months. It is a story of compassion, triumphing over adversity, and finding joy in everyday experiences, as Kehret moves from hospital to hospital, meeting other polio-stricken children and caregivers on her rehabilitation journey.
The book is written chronologically, with few flashbacks, which makes it easy to read, even for reluctant readers. While there is some difficult vocabulary as it relates to polio, all of it is explained in everyday language. The book is ideal for students in grades 4
th
through 9
th
, though younger advanced readers may be able to read it as well, as long as parents don't mind having youngsters tackling the concepts of paralysis and the threat of death. If you have a student who is interested in medicine, she will love this book.
This autobiography brings to life our country's not-so-distant past when it was not uncommon for children to die before reaching adulthood. I remember my grandmother talking about polio, and how every afternoon she had forced my father and the neighborhood children to take a nap in her living room. She was proud that none of them contracted polio and attributed it to strengthened immune systems from her daily nap ritual.
Small Steps
reminds readers of the miracles of modern medicine and the fragility of human life.
The book includes black-and-white photos of Kehret, her roommates, doctors, and polio researchers, as well as back matter describing polio and efforts to eradicate it, resulting in Jonas Salk's vaccine. I highly recommend
Small Steps
and rate it five stars (out of five). Kehret becomes stronger through her trials and is an inspiration to all of us who have had "it" happen.
Disclaimer: The purpose of this review is to guide parents into selecting appropriate, significant, high-quality literature for their teens and tweens.
I have no connection with the author or publisher of this book. I am a home educator of two children, 11 and 14, with a keen interest in historical fiction for young adults.