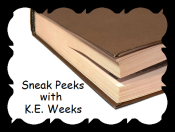 This feature is presented by guest blogger, K.E.Weeks.
Initially, I selected
Letters from Rifka
by Karen Hesse ($6.99; Square Fish; 2009) because it had won the National Jewish Book Award and was written by a Newberry Award-winning author, so I figured it must be good. I was disappointed.
The story itself is interesting enough. A twelve-year-old Jewish girl Rifka and her family are fleeing persecution in Russia in 1919 for America, where her three oldest brothers live. En route to the ship, Rifka contracts ringworm and must stay behind with a foster family in Belgium until her scalp heals, which takes nearly a year.
Spoiler alert!
Rifka eventually sails to America over stormy seas only to be quarantined on Ellis Island for weeks. She learns languages quickly and becomes an interpreter to the medical staff, as well as a friend to an orphaned Russian peasant boy. In the last chapter, she is reunited with her family.
The book is based on the author's great-aunt's life story, so the story must have a lot of accurate elements, but I am not familiar enough with this time period to give an opinion. The book has very little violence (the description of her uncle being shot and killed in a flashback), only mild love interest (a benign kiss from a cabin boy), and mild sexual innuendo (soldiers leering at women who are forced to strip for medical examinations). Overall, it's a fairly sweet story with just enough danger and suspense and a happy ending that most young girls, 10 -13 years old would enjoy.
Sadly, I had three major quibbles with this book. First, if the reader has not studied World War I European history, the story can be confusing, especially at the beginning while the characters are still in Europe. For instance, the protagonist makes references to "pogroms," a rioting against the Jews in Russia, without explaining it to the reader. There are several Jewish, Yiddish, and Russian terms and no glossary to turn to for help. Also, there is the consistent use of acronyms, such as HIAS, which is explained only once in the beginning (Hebrew Immigrant Aid Society), and not in detail, but then repeated often later in the book. I have had some WWI European history, and I struggled to understand exactly what was happening between the Jews and the Russian peasants at the beginning. A young student with no background would likely be lost.
Secondly, the story structure is confusing. Rifka's cousin gives her a book of Pushkin's poetry. Rifka uses the blank pages and the margins to write "letters" to her cousin, sort of a journal that she does not mail. (At the end, Rifka considers mailing the book back to the cousin with the letters inside, but the reader does not see this happen.) The structure is strange, and somewhat hard to comprehend.
Thirdly, every letter begins with a section of a poem by Russian poet Alexander Pushkin. The sections are short in order to, I think, not intimidate the reader. However, the result is truncated segments that cannot be analyzed nor understood. Moreover, and more importantly, the vocabulary is far above the target audience. For example:
....And I shall know some savor of elation

amidst the cares, the woes, and the vexation... (Pushkin).
How many fourth or fifth graders do you know understand the meaning of the words "elation" and "vexation"? How about "exile"?
Thus, while the story is based on historical facts and contains some realistic elements, it is not entirely appropriate for the target audience. Perhaps Jewish children would have more familiarity with some of the terms or cultural elements and, thus, enjoy the story more, but I think even they would struggle with the poetry. Thus, I give the book three stars (out of five) for failing to meet the target audience's needs.
Disclaimer: The purpose of this review is to guide parents into selecting appropriate, significant, high-quality literature for their teens and tweens.
I have no connection with the author or publisher of this book. I am a home educator of two children, 12 and 14, with a Master of Art degree in American Literature and a keen interest in young adult fiction and nonfiction.