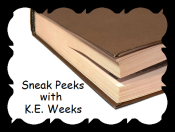 This feature is presented by guest blogger, K.E.Weeks.
I am a big Gloria Whelan fan, so when I noticed a book I had not read, I snatched it up.
The Turning
by Gloria Whelan ($9.98; HarperCollins; January 24, 2006) is a companion book to the "series" that begins with
Angel on the Square
(see below). (A companion book is a text that is related to another book—either with the same characters, location, or time period— but is not a true sequel.)
This tween historical fiction is about seventeen-year-old Kirov ballerina Tanya in 1991, before the dissolution of the USSR. Tanya's family is very political, especially her grandfather Georgi, who is the narrator in another book in the series,
Burying the Sun
(see below), but Tanya just wants to dance. When her friend Vera asks her to defect to Paris during an upcoming ballet tour, Tanya is conflicted. Should she stay and help build a freer Russia or should she go to save her own freedoms because Russia will never change?
The book is an interesting discussion of patriotism and reform. What I like best about this book is Whelan's ability to weave, not one, but
two
subplots into such a short novel. There is one subplot about a young girl at a shelter whose drunken father tries to sell her into slavery and another about Tanya's boyfriend who paints a forgery of a famous Russian icon painting and attempts to sell it in order to pay for medicine for his ailing grandmother. The subplots are almost better than the main plot, which gets confusing at the end for those who are not familiar with the last days of the Soviet Union and the power struggle between Boris Yeltsin and Mikhail Gorbachev.
There are few offensive elements in this book, except for the abusive father's drunkenness and the attempted sale into slavery. These elements are handled gently, however, and should not be too shocking for the target audience. There are good potential discussion questions related to theft, lying, deception, and doing what is right even when it is difficult or scary.
This is a good book for aspiring ballerinas because there are a lot of details about ballet, including ballet vocabulary. The novel contains a glossary for those who are not familiar with ballet words like
arabesque
. It's suitable for ten- to thirteen-year-old students. While the book might be entertaining and educational for an older student, it is relatively short (224 small pages; more like 125 regular pages) and not as well-developed as one would expect in a book for a high schooler.
I rate this book four stars (out of five). While it has a lot of great historical detail and descriptions of Russia and ballet, the ending is hollow. Tanya ends up at the Parliament Building just at the moment of the attempted coup, which is hard to believe. The details, too, are lacking, in this section. Still, if your student likes ballet or is studying Russian history, this would be a solid contribution to his or her understanding of the collapse of communism in Russia.
Burying the Sun
by Gloria Whelan is my favorite book in this companion series ($2.99; HarperCollins; May 1, 2007). It is set during the siege of Leningrad in 1941, when Hitler's troops surrounded the city in an attempt to wait the citizens out. Despite great hardships, the Russians do not succumb to Nazi forces, and eventually, they find relief. Fifteen-year-old Georgi and his friends struggle to overcome cold, hunger, and the bombings. While the subject matter is grim, the story is not overly gritty. Whelan still approaches it with her tween audience in mind.
One of my favorite things about this book is that it is about a period in history that few Americans know. Most know that America fought with the Russians against the Nazis, but few realize (including me!) how much the Russian people suffered. This is a great book for young students who are studying WWII (10+ years old) because it gives just enough of the facts without being terrifying.
The theme of the book is the importance of finding beauty wherever one can, even amidst great suffering, and how art—both performance art and multimedia—can transform us more than seems possible. I rate this book five stars (out of five). It is one that stays with the reader long after he has closed the back cover.
The Impossible Journey
by Gloria Whelan is narrated by thirteen-year-old Marya in 1934 as she guides her younger brother Georgi (narrator of
Burying the Sun
) from Leningrad to Siberia in search of their parents who have been exiled for opposing Stalin (HarperCollins, 2009; possibly out of print? The cost on Amazon.com for a hardcover was $19.76 – outrageous for a book of this size, and was only available as an eBook on BarnesandNoble.com. However, the book is common at libraries.)
The children travel over 1,000 miles alone, and while this is far-fetched, Whelan makes it sound believable. Although they face obstacles—including cold, hunger, and the authorities who would place them in an orphanage, kindly strangers from all backgrounds help them on their journey. The details of Siberia are well-written and interesting. The reader learns about political prisoners as well as the nomadic life of the indigenous Samoyeds, who herd reindeer. The book includes a glossary of Russian terms to help the reader.
This book is less exciting than its revolutionary companion counterparts, but it is still entertaining and well suited to tween readers who are interested in the early days of communism and Siberia. I rate this book four stars (out of five).
Angel on the Square
by Gloria Whelan is a popular Sonlight Curriculum title because it details the last days of the Russian Czars, a topic rarely covered in YA literature ($9.99; HarperCollins; January 7, 2003). Twelve-year-old Katya Ivanova is the daughter of Countess Baranova who has recently taken up residence in the palace as a lady-in-waiting to the Empress Alexandra, wife of Czar Nikolai II. Katya takes little notice of the activities of her family friend, Misha, who is involved in the Revolution.
This historical fiction novel set in St. Petersburg in 1913 is accessible, well-written, and interesting. It would be best appreciated by students who understand some background of Russian history. Although I knew a little about the Grand Duke Alexei who has hemophilia, the story would have been greatly enhanced had I known more. Still, I learned quite a lot. Like most of Whelan's books, the novel contains a glossary in the back to help readers with the Russian vocabulary.
While there is some violence mentioned (the Czar's family is executed in the end), the reader doesn't "witness" it and there is very little romance. As usual, there is a lot of fodder for discussion as it relates to wealth and poverty and the responsibility that comes with privilege. Katya's family owns a large country estate, ruled by a cruel overseer Vitya. In the end, Katya discovers how much the peasant serfs have suffered so that she and her mother could live in lavish splendor in the city:
"You came here once a year and sat on the porch and drank tea and had your little
dinner parties; and then you went away."
Later, when I repeated his words to Mama, she said, "I demanded what my papa had always asked, and his papa before him. The mansion in St. Petersburg and all the servants there took money. Papa said if you weren't strict with the peasants, they would cheat and steal from you." She looked down, not wanting to meet my eyes. "I was very foolish, Katya. I never thought of what the peasants suffered. How was I to know what hunger was? I only urged Vitya to send more money. I never asked how he was to get it" (Whelan 277).
I rate the book five stars (out of five) for Whelan's knack for making unique periods in history and unusual geography come alive for a North American audience and the detailed descriptions of royal Russia before the Revolution and peasant life following the Revolution.
Angel on the Square
is an excellent contribution to YA literature.
Disclaimer: The purpose of this review is to guide parents into selecting appropriate, significant, high-quality literature for their teens and tweens.
I have no connection with the author or publisher of this book. I am a home educator of two children, 12 and 14, with a Master of Art degree in American Literature and a keen interest in young adult fiction and nonfiction.