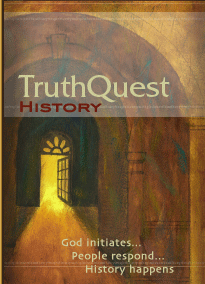 When I first started homeschooling, I selected a popular history program that utilizes living books. I loved the books that came with the program, but I had trouble keeping up with the schedule. To be honest, it wasn't the program at all. I'm sort of an all or nothing personality, and that schedule simply fell into the nothing category. Those books, though, still hold a spot on our shelves and have for many years. I often send my son to that particular bookshelf for his reading selection and mark "history" off the list of material covered for the day.
Though he's being fed lots of great historical literature, I often feel it isn't enough and he's still missing some framework that a more structured program would provide. I recently was given the opportunity to review a history program that is very flexible, but provides a framework to build understanding -
TruthQuest History
. There are total of ten TruthQuest History guides for grades 1-12. The guide I received was
Age of Revolution II (American/Europe, 1800-1865)
, for grades 5-12.
The guide is broken down into 50 sections of various topics within the time period. You can find a
Table of Contents
for each available guide at the website. Each section begins with a commentary, written by author Michelle Miller, intended to set the stage for the topic and time. TruthQuest History approaches history not as the story of mankind, but rather "the story of God's initiation and our response". The commentaries explain key influences, both historical events and spiritual conditions, of the time. This information is presented in a very casual and conversational manner and is anywhere from a few sentences to a couple of pages in length. Scripture from a variety of translations is often included.
Following the commentary is a selection of titles covering the topic of that section. Michelle Miller weaves her commentary around interesting people and many of the sections are biographical. For example, in the section about the California Gold Rush, a sub-section with several titles on Levi Strauss, who started out selling pants to miner, is included. One of my children really needs unusual and interesting stories of people to pull together the big picture of history, so seemingly insignificant sections like this are very useful.
Even though the guide I received is for grades 5-12, recommendations for as early as K-3 are provided among the more advanced titles. A handful of sections even include audio and video recommendations, as well as titles with hands-on activities.It is not the expectation that
all
titles are read nor even all sections are covered. In fact, even the author has not read all of the titles. Notations are provided on whether or not the book was in print at the time of the writing of the guide, the independent reading grade level, as well as particular recommendations or content warnings.
For those that prefer to follow a "spine" text, several suggestions are made and integrated into the suggested readings. The spine listing for
Age of Revolution II
is
here
.
In addition to the readings, there are eleven ThinkWrite writing exercises. Many of these exercises don't have "right" answers, but require the student to reflect and think. An appendix does include suggestions of the points some answers should include. A couple of example exercises are:
Find a good definition of free enterprise, but then go beyond to give a quick explanation for the basis of that freedom as we've discussed. Can you see how it contributes to scientific and industrial creativity?
You'll be old enough to vote before you know it! Any thoughts on how you'll handle this precious and awesome responsibility?
You can find a
sample of the Age of Revolution II guide
, which includes some suggestions on how to use the guides.
What I most like about TruthQuest is the flexibility it offers, while still providing framework for the student. There are no suggested schedules, no daily reading assignments, no questions to answer, and no tests. It is very much a history resource buffet – take what you want, leave what you don't, and feel free to sample.
Another point for flexibility is the multiple levels offered in one guide. The guide I received is targeted to grades 5-12, an already wide span. However, books for younger grades are included in every section. Even though younger siblings may not benefit as much from the commentary, the guide provides title suggestions helps coordinate the younger kids with what the older kids are studying.
There are a few disadvantages. Advance planning will be needed to acquire the titles. Since the guide is not dependent on any one particular title, availability of certain titles isn't detrimental. In fact, it is suggested that after reading the commentary any title of the topic is just fine. Regardless, the interloan service through your library will definitely be utilized. In the case of the Levi Strauss section mentioned earlier, five of the six titles listed were available through our library system, but none were at my particular library. I would suggest planning several weeks ahead in order to make sure all your titles arrive in time. Also, some kids (or parents) may not appreciate the conversational tone and loose structure, especially if they are used to textbooks and comprehension questions.
Overall, I really like the approach of TruthQuest and the flexibility it provides. In addition, a very active Yahoogroup,
HIStoryQuesters
, is available as support and a source of ideas for using TruthQuest in your home. The guides are available for $19.95 - 34.95, depending on the guide and format, at
www.truthquesthistory.com
.
Disclaimer: This review was provided as a result of my participation in The Old Schoolhouse Magazine Crew. I was provided the product free of charge in exchange for my honest review. I have received no other compensation. I strive to give a balanced overview of each product, detailing my opinion of both pros and cons and how the product worked for my family. What works for one family may not work for another. I encourage you to read reviews of other Crew members and research sufficiently to determine if any product will be a benefit to your homeschool. You may read more reviews on this product by visiting here.