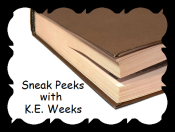 This feature is presented by guest blogger, K.E.Weeks.
The first thing that struck me about
The Graveyard Book
by Neil Gaiman was its similarities to
Masterpiece Theatre
,
The Twilight Zone
, and stories by Edgar Allan Poe ($7.99; HarperCollins; September 2008). The second thing that struck me was the illustrations. It's unusual for a horror chapter book to have illustrations, and these are quite spooky—shadowy figures, smoke and mist, sharp knives, and such.
As the title suggests, the story is set in an English graveyard where the ghosts rescue a toddler from a man who has murdered his family. They raise the boy, called Nobody "Bod" Owens, and give him special privileges granted to those who have the Freedom of the Graveyard, such as being able to see in the dark and communicate with the dead. Bod learns not only Latin and history from those who have spoken and lived it, but also unique ghost skills, such as Fading and Dreamwalking.
Overall, the book is clever and entertaining. Readers who like fantasy and mystery will love
The Graveyard Book
. The writing is tight, crisp, and witty. The dialog between Bod and the ghosts is fabulous, as they speak in the tongues of their historical time periods. For example, "'T'aint healthy for a living body,' said Mrs. Owens" (Gaiman 99). Characters are introduced with their headstone birth and death dates and other details. For instance:
"Poor little soul," says Mistress Owens, taking the boy from her, and cradling him in her capable, if insubstantial arms. "I can't say I didn't worry, for I did. But he's back now, and that's all that matters."...Doctor Trefusis (1870-1936, May He Wake to Glory) inspected it [Bod's ankle] and pronounced it merely sprained....Josiah Worthington, Bart., who had been buried with his ebony walking cane, insisted on lending it to Bod, who had too much fun leaning on the stick and pretending to be one hundred years old (Gaiman 96).
However, there is a dark side to the story. Readers who are offended by mentions of magic, witches, werewolves, or ghouls will not like this book.
Spoiler Alert!
Bod befriends a witch who was drowned and burned at the stake—"until I was nothing but blackened charcoal" (Gaiman 111)—who is buried in "unconsecrated ground" outside of the graveyard.
Moreover, there is one scene in particular where Bod is dragged against his will through the ghoul-gate and into a place that is eerily reminiscent of the bowels of hell—a hot, barren desert filled with evil-doers. Eventually, he is saved by flying bird-like creatures (angels?) and The Hounds of God (werewolf-type shape-shifters).
The first few pages in which the evil man Jack kills Bod's living family are the most violent, but the violence is cold, calculating, and so subtle that younger readers may not even understand what has happened for several pages: "The knife had done almost everything it was brought to the house to do, and both the blade and the handle were wet" (Gaiman 2) and "He had left the woman in her bed, the man on the bedroom floor, the older child in her brightly colored bedroom...That only left the little one, a baby barely a toddler, to take care of" (Gaiman 3). While there is some threatened violence later in the book, this scene is the most brutal and intense.
This Newbery Award Winner for 2009 is intended for readers ten years old and up, but I would give a
strong caution
that it is not for those students who are easily frightened. The book is a suspenseful horror story. While it is not gruesome, it is hardheartedly fear-provoking at times. Bod's friends and adopted family are ghosts, so death does not seem scary in the book. In fact, the living are much more frightening and unpredictable than the dead in this tale. But there are scary scenes and those readers with vivid imaginations may end up with nightmares. In my opinion, the target age range is twelve year old and up. If you have a brave reader who likes fantasy,
The Graveyard Book
is a creative, ingenious tale. I enjoyed the novel and give it five stars (out of five).
Disclaimer: The purpose of this review is to guide parents into selecting appropriate, significant, high-quality literature for their teens and tweens.
I have no connection with the author or publisher of this book. I am a home educator of two children, 12 and 14, with a Master of Art degree in American Literature and a keen interest in young adult fiction and nonfiction.