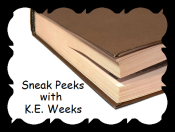 This feature is presented by guest blogger, K.E.Weeks.
I speak Spanish and I lived in Southern California for six years and Mexico for a summer, so the book
Esperanza Rising
by Pam Muňoz Ryan resonated powerfully with me ($6.99, Scholastic, 2002). This historical fiction is a coming-of-age novel about twelve-year-old Esperanza Ortega, a rich landowner's daughter from Aguascalientes, Mexico, who is forced to flee to the United States when her father is killed by bandits in 1930. After living with servants on the lush El Rancho del las Rosas estate, Esperanza struggles to adjust to life as a farm worker, a
campesina,
during the Great Depression.
The chapters are named after produce that the families harvest—(Las Uvas, Grapes; Los Melones, Cantaloupe; Las Cebollas, Onions; etc.)—which demonstrates the people's connection with the land, whether rich or poor. The story contains vivid, historically- and geographically-accurate details. The author is of Latina-descent and grew up in the San Joaquin Valley, where the story is set, picking many of the produce she describes.
Overall, the language is easily-accessible and suitable for nine-year-old readers and above. There are lots of Spanish words—two or three per page—but they are always explained clearly within the text, such as "She smelled
cafe
and
chorizo.
The coffee and sausage made her stomach growl and she tried to remember when she had last eaten" (Ryan 106).
The book contains very little violence and no inappropriate romantic scenes. It is suitable as a read-aloud for all but the youngest of children. This does not mean the book is simplistic, though. On the contrary,
Esperanza Rising
has lots of fodder for important discussion, including questions of race, how to define wealth, whether or not to unionize and strike, who has rights when it comes to immigration (legal and illegal), one's duty to share with those less fortunate, and others. For instance, a poor widow with eight children, says:
I am poor, but I am rich. I have my children, I have a garden with roses, and I
have my faith and the memories of those who have gone before me. What more
is there? (Ryan 76)
This book would make an excellent novel for a book discussion group. It will likely appeal to girls more than boys, by virtue of the fact that the primary protagonist is a girl. However, it is not a "girly" story and boys will like it if they can look beyond the passages about dolls and crocheting. I strongly recommend
Esperanza Rising
and grant it five stars (out of five) for its accurate geographical and historical depictions, significant social messages, and descriptive writing.
Esperanza
means "hope" in Spanish, and in the end, that is what we all seek.
Disclaimer: The purpose of this review is to guide parents into selecting appropriate, significant, high-quality literature for their teens and tweens.
I have no connection with the author or publisher of this book. I am a home educator of two children, 12 and 14, with a Master of Art degree in American Literature and a keen interest in young adult fiction and nonfiction.
*Contains affiliate links.