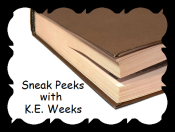 This feature is presented by guest blogger, K.E.Weeks.
There's something about reading about winter in summer and vice-versa that is appealing to me. I guess it is the great contrast between looking at leafy, green trees and feeling the warmth of the sun while living in my mind with snow and wind. It fascinates me that I can "live" in both places at once.
In general, I don't like "school stories." That is, stories set inside schools with "schoolly" plots filled with bullying, cliques, teenage angst, and the like. However, even though
Trapped
by Michael Northrop is set in a school and has some "schoolly elements," such as worries about geometry tests, hot chicks, and pimples, it is, in essence, a survival story ($10.98; Scholastic Press; February 1, 2011).
Fifteen-year-old high school sophomore Scotty Weems is stuck at a rural school during a blizzard in New England. He and six other students who, for various reasons, miss the last buses are forced to survive for days on Oreos and PB&J stolen from the cafeteria. The snow piles up— foot by foot until they can barely see out of the second floor windows—and so do their problems, as the lights go out, the heat turns off, the pipes freeze, and the roof shudders from the weight of the snow. Meanwhile, no one knows to look for them at the school because everyone thinks they are on the last buses, which may still be trapped on the country roads somewhere.
The writing is sharp and funny and the plot dances along at a good pace. For example, this paragraph from Scotty's time in geometry class where students are not allowed to have cell phones at school:
I was more concerned about indirect proofs at the moment, but the room was quiet and every now and then you could hear a cell vibrating in someone's backpack, like a fist-sized bug trying to get out. Kids would cough or scrutch their chairs back to cover it up, but let's be honest—if you're smart enough to teach indirect proofs, you're smart enough to figure that out.... When I was a little kid, I had a dinky round cell phone with one button so that I could call my mom or she could call me. It had some embarrassing name, like Doodlebug, but it really should've been called Leash (Northrop 14).
The survival elements are plausible, although I am surprised by the students' lack of sense in some respects, such as wasting the batteries on their phones by playing video games and having thoughts about "Internet withdrawal." Still, the students learn how to manage and survive, so the book might provoke some discussion with parents for "what if" situations. What if you were home alone when a tornado struck? What would you do if your car broke down on a deserted road and your cell phone were dead? What if you were at work during a blizzard?
The characters are flat stereotypes—the hot chick, the jock, the average kid, the camo sniper, the goth dude, the bad boy, etc.—but there is enough depth to the main character to distract the reader from these shortcomings. Violence is limited to the occasional fist fight and, overall, the sex is limited to a few unsavory comments and the occasional daydreams of one boy's overactive hormones. I enjoyed
Trapped,
and I give the story four stars (out of five) for the humor, snappy writing, and realistic survival elements.
Disclaimer: The purpose of this review is to guide parents into selecting appropriate, significant, high-quality literature for their teens and tweens.
I have no connection with the author or publisher of this book. I am a home educator of two children, 12 and 15, with a Master of Art degree in American Literature and a keen interest in young adult fiction and nonfiction.
*Contains affiliate links