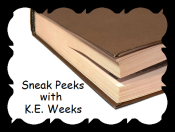 This feature is presented by guest blogger, K.E.Weeks.
This week, I wanted to do something a little different with my book reviews. Usually, I review one or two books or a series. Today, I am responding to a friend of mine who has asked that I "just make a list" to make it easier for her to order good books. Thus, I will be "making a list" periodically, instead of reviewing one book in depth.
This week's list is for advanced elementary school readers who are not quite ready for more "mature" themes, like death, disease, war, etc., such as students in second grade who are reading at a fifth grade level. The vocabulary in these books is more challenging, but they have either gentle stories, such as farm or prairie tales, or serious historical stories addressed with a light touch.
The Freddy series by Walter R. Brooks
Freddy the Detective, Freddy Goes to Florida, Freddy and the Bean Home News, Freddy the Cowboy....
My children
loved
these. We have them both in book form and on tape. My early-advanced reader could read them in 3
rd
grade and my struggling reader listened to them on tape for hours. Originally published in 1927, these books have solid themes such as friendship, loyalty, and honesty. The pen and ink drawings are simple and the vocabulary is challenging, reminiscent of a time when children's books were not "watered down" for sound-byte attention spans: "They were getting much too bold, and some of their exploits were decidedly foolhardy" (Brooks
Cowboy
135). Freddy the Pig always gets his man.
Esperanza Rising
by Pam Muňoz Ryan
I reviewed this in depth here:
Sneak Peeks with K.E. Weeks: Esperanza Rising
All-Of-A-Kind Family series by Sydney Taylor
My daughter adored these stories of a Jewish family at the turn of the 19
th
century in New York City. The vocabulary includes Yiddish words (with explanations through context), but the situations the family faces are commonplace and gentle: childhood illnesses, chores, lost library books, and stolen candy. The family faces every obstacle with grace and compassion.
The Borrowers series by Mary Norton
You may have seen the movie based on this series, but the book is always better. Arrietty is a little person who lives beneath the floor with her mother and father and who "borrow" what the big "human beans" carelessly discard. This series is full of suspenseful tales of dodging cats, birds, and human boys with pet ferrets. Norton was an English writer, so the vocabulary is decidedly British, such as "hat pins" and "blotting paper."
The Indian in the Cupboard series by Lynne Reid Banks
While one would think boys would be especially drawn to this tale of a boy whose plastic Indian and cowboy come to life, my daughter loved them, too. These books address every child's belief that his toys are alive when he is not present. The stories discuss friendship and the responsibilities of caring for another.
Little Britches series by Ralph Moody
A story of an eleven-year-old boy on the American West who must support his family after his father dies of Tuberculosis. Filled with tales of breaking colts and selling baked goods door to door, my son loved these novels. The vocabulary is sometimes challenging because Moody describes processes most people no longer do and words for farm equipment we no longer have, such as "hackamore rope" and "lariat," but the meaning is fairly clear from context.
R My Name is Rachel by Patricia Reilly Giff
A detailed review can be found here:
Sneak Peeks with K.E. Weeks: R My Name is Rachel
Disclaimer: The purpose of this review is to guide parents into selecting appropriate, significant, high-quality literature for their teens and tweens.
I have no connection with the author or publisher of this book. I am a home educator of two children, 12 and 14, with a Master of Art degree in American Literature and a keen interest in young adult fiction and nonfiction.