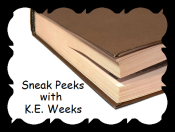 This feature is presented by guest blogger, K.E.Weeks.
Have you ever considered walking across the United States? It sounds like an impossible feat, right? Well, mother and daughter, Helga and Clara Estby, did it in seven months in 1896 to win $10,000 from a book publisher in an attempt to save their farm in Washington state. The resulting book, written 115 years later by the great-grand-daughter and great-grand-niece, is
The Year We Were Famous
by Carole Estby Dagg ($12.74; Clarion Books; April 4, 2011). The book details their adventures through lava fields, over mountain ranges, in flash floods, and blizzards, with highwaymen and American Indians.
Sadly,
The Year We Were Famous
starts slowly, so slowly, in fact, that I almost didn't keep reading until I got to the "good part." The beginning is a dull portrait of a dysfunctional family, and the action does not pick up until page 70. The book would have benefitted from starting in a different point, introducing the reader to Clara and getting the reader to love her before introducing the unlikeable mother. After the beginning, there is a good deal of drama and excitement to keep the reader engaged. Thus, if you can persevere through the preparations and the packing chapters, the remainder of the novel is entertaining.
Each chapter is headed by the date in 1896, the number of days on the journey, and the location, such as "August 16, 1896; Day 103; Laramie, Wyoming," which makes it easy to follow. The front and back cover have a map of the women's route, which is very useful. Clara is a practical narrator who is at a crossroads in her life, wondering if she should marry the boy next door, marry the young newspaper reporter she just met, or go on to college alone. The biggest source of conflict, though, is her relationship with her mother. Thus, girls who have a contentious or sometimes-strained relationship with their mothers may enjoy this book. For instance:
Ma thrived on attention, being different, marching with the suffragists, tromping clear across the country, and getting her picture in the New York World. I would do anything to avoid attention. Her notions had her blooming fiery orange like her Austrian Copper rose, then going dormant as a stick. I was more like a pine tree, never blooming—just a steady, predictable green (Dagg 124).
Or, this:
"If you wanted to talk, you should have taken Ida," I said, reaching over my shoulder to peel my sweaty shirtwaist from my back.

"Ida wouldn't have lasted an hour in this heat," Ma said. "At least you're still here."
"Ja, well," I answered, surprised by the compliment. "I suppose my doggedness is just another way I'm like Pa."

"Ja, well. You might recall that your Pa didn't want us to take this trip. Yet here you are, with me." Ma unbuttoned the first three buttons on her shirtwaist and picked up her bag, ready to walk again. "You might just be more like me than you think."

Heaven forbid, I thought (Dagg 87).
This conversation between mother and daughter is representative of the relationship between many mothers and daughters, the desire to be different and the recognition of similarities.
Spoiler alert! [Skip the rest of this paragraph if you do not want to be told some important plot twists.]
However, what the reader does not see at this time is the foreshadowing that is not so representative of most mother-daughter unions and unexpected in a sweet prairie story—Clara is not her Pa's daughter at all, but the daughter of Helga's former beau. Moreover, Clara is not even the age she thinks. She is 19, not 18, as she believes. While this is not such a scandalous situation in a tale for older teens, it is likely inappropriate for readers under twelve years old. This is unfortunate because the yellow, old-fashioned cover and the story overall is really better suited to younger readers than older ones.
There is one point in the book which presents a thought-provoking argument:
"At least one of us has to make it to New York, so men can't say women are too frail for such a venture, or quit too easily. I have no patience for people who accept whatever life gives them without a fight," she said. "'God's will,' they say. Well, I say 'With God, all things are possible.' The worst is behind us. Once we get to the plains, it's just a flat walk to the field in New York" (Dagg 141).
Should a person accept what happens in his life as God's will? Or should he try to do the "impossible" with God's help? It's an intriguing question. Other than this and the previous paragraph's issue, though, the book is simply an entertaining tale, with not much fodder for discussion. Therefore, it isn't a good choice for a book club.
Overall, it is an entertaining book, with historical value, some good writing, and some exciting parts, but it lacks pacing and consistency. Also, honestly, reading the "Author's Note" and discovering what happened to the real Clara Estby, sort of ruined the story for me.
My other problem with the book is the mixed audience to whom it is writing. Initially, the story seems to appeal to nine- to twelve-year-olds, but the mature topics are really more suitable for readers over twelve.
The
Year We Were Famous
is well-suited to older readers who enjoy prairie and farm tales and who prefer controversial topics with a soft edge. It would also be a good complement to a study of President McKinley or women's suffrage rights because a good chunk of the book dwells on this. (If you have a struggling or dyslexic reader, you may want to avoid this book because of the varying fonts. Clara writes and receives letters which are signified by italics and other fonts, which may be difficult for some.)
While I liked the story once I "got into it," I give it three stars (out of five) because it starts slowly, has some rough edges, and the modern issues it addresses (such as bipolar disorder and race relations between the whites and the American Indians) starkly contrasts with its quaint cover and target audience.
Disclaimer: The purpose of this review is to guide parents into selecting appropriate, significant, high-quality literature for their teens and tweens.
I have no connection with the author or publisher of this book. I am a home educator of two children, 12 and 14, with a Master of Art degree in American Literature and a keen interest in young adult fiction and nonfiction.
*Contains affiliate links.