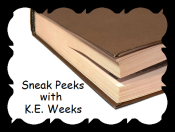 This feature is presented by guest blogger, K.E.Weeks.
When my daughter recommended a book for me to review, I knew I had to read it.
R My Name Is Rachel
has become her latest favorite book ($15.99; Wendy Lamb Books; August 9, 2011). When I saw that it was by two-time Newbery Honor-winning author Patricia Reilly Giff, I knew it would be good. I wasn't disappointed.
In 1936, twelve-year-old Rachel is confronted with moving from the city to an abandoned farm in North Lake, near Canada, with her father and younger brother and sister. The dire circumstances of the Great Depression force their father to leave the children on the farm alone in the spring to seek a construction job on one of President Roosevelt's New Deal work projects. The children are forced to contend with loneliness, bickering, a looming rent deadline, and a dwindling pantry, consisting mainly of canned tomatoes and green beans.
The story is structured around the seasons, beginning in late winter and ending in summer. Rachel tells much of the story through letters written to a family friend. The book contains a lot of discussion of sibling rivalry and discord, with forgiveness and graciousness being the salve. Rachel fails to understand her sister Cassie, likening her to an orange rose in an arrangement of pink and white flowers. It's a good description of sisters who are "different spirits" and how they can attempt to appreciate each other's strengths.
The book also teaches readers to admit wrongdoing and take the consequences because that is better than suffering with guilt. As Rachel's friend, Miss Mitzi says, "Look in the mirror and tell yourself what you did wrong, Rachel. Then figure out how to fix it no matter how hard that is. Know that I love you" (Giff 104).
The book is a sweet, overcoming hard circumstances tale well-suited to girls in 3
rd
– 6
th
grade. While older girls may like it, the book is short (166 pages) and relatively simple, so it would be a quick read for an older student. If you have a reluctant reader, she may have difficulty with Rachel's letters, which are printed in italics. The correspondence is key to the story and appears in nearly every chapter, so be prepared to help your struggling reader or make it a read aloud.
The only thing I dislike about the story, and it is such a small quibble that it is hardly worth mentioning, is one comment about polar bears lumbering around at the South Pole. Of course, there are no polar bears at the South Pole, so that comment is inaccurate. However, the comment is said by Rachel, who may not realize there are no polar bears at the South Pole, and it may be that Giff put that in so that the reader would know that Rachel is not very worldly. However, it irked me nonetheless, since many young readers would not know that either.
Despite this minor irritation, I recommend
R My Name Is Rachel
by Patricia Reilly Giff as a solid contribution to tween literature and give it four stars (out of five).
Disclaimer: The purpose of this review is to guide parents into selecting appropriate, significant, high-quality literature for their teens and tweens.
I have no connection with the author or publisher of this book. I am a home educator of two children, 12 and 14, with a Master of Art degree in American Literature and a keen interest in young adult fiction and nonfiction.