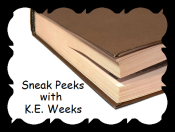 This feature is presented by guest blogger, K.E.Weeks.
I saw an audio CD of
Between Shades of Gray
by Ruta Sepetys at my local library, but was unable to locate a print copy ($11.98; Philomel; March 22, 2011). Thus, I swam deeper into the sea of eBooks and ordered it for my Kindle, just as I was leaving on a trip. I discovered, while it is convenient to read on a Kindle while traveling, it is difficult to extract information from an eBook for a book review because the reader does not have a page number for the MLA citation, only a percentage of the book finished. Thus, I must use chapters for the MLA citation at the end of quotations, instead of proper page number format.
The historical fiction book begins, "They took me in my nightgown" (Sepetys 1). This cliff-hanger is one of many. "They" refers to the Soviet NKVD officers (eventually known as the KGB) who knock loudly at the door in the early evening in June 1941 and snatch fifteen-year-old Lina, her younger brother Jonas, and her mother from their Lithuanian apartment. Lina's father, a professor at the university, has been trying to find a way for the family to escape to the west when the Soviet Union takes control of the small Baltic States of Lithuania, Latvia, and Estonia and begins sending "anti-Soviets" to labor camps, also known as gulags, in the east. The book tells the story of an often-forgotten segment of WWII—the genocide and cultural elimination of people of the Baltic States by Stalin, as he and Hitler battled for control of Europe.
The story alternates between Lina's family's struggles en route in boxcars and life in various labor camps where they are almost constantly exhausted, cold, and hungry, and her "pre-World War II" life where her brother cannot finish his dinner, they visit art museums, and Lina's cousin Joana studies medicine. The memories are in italics at the end of some chapters, and are in stark contrast to her current life. Other chapters end with suspenseful statements, like "I shut the bathroom door and caught sight of my face in the mirror. I had no idea how quickly it was to change, to fade. If I had, I would have stared at my reflection, memorizing it. It was the last time I would look into a real mirror for more than a decade" (Sepetys 3).
Lina keeps hope alive for herself and her family by drawing what is happening and where they are going on scraps of cloth and pieces of wood, in hopes that her drawings will find their way to her father in a Soviet prison and he will rescue them. The family works with other deportees, including a seventeen-year-old boy named Andrius, whom Lina alternatively likes and hates.
The book is divided into three sections: "Thieves and Prostitutes," "Maps and Snakes," and "Ice and Ashes." There are some nice maps at the beginning for the reader to see Lina's travels through Eastern Europe, Asia, and, eventually, the Arctic Circle, as well as a timeline of the story and locations.
The historical novel, based on family memories but not a memoir, is compelling and well-researched. Sepetys took two trips to Lithuania to interview family members and survivors of the gulags. Overall, the book is interesting and well-written. It is a story of forgiveness and compassion for mature 7
th
graders and up. While the violence is mild, considering the subject matter, there is violence, cruelty, and adultery, such as a woman who sleeps with her captors for food and improved living conditions.
Unfortunately, I was sorely disappointed in the ending, which resorts to a flat "vision of the future" and an epilogue to tell what happens to Lina and her family. The weak ending does not do the well-developed book justice. For this reason, I give the book four stars (out of five). Yet, for a first novel,
Between Shades of Gray
is a substantial contribution to young adult fiction, and I'm looking forward to reading more of the author's work.
Disclaimer: The purpose of this review is to guide parents into selecting appropriate, significant, high-quality literature for their teens and tweens.
I have no connection with the author or publisher of this book. I am a home educator of two children, 12 and 14, with a Master of Art degree in American Literature and a keen interest in young adult fiction and nonfiction.