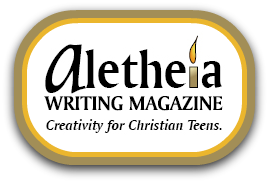 My daughter has loved to write since she was a very little girl. Even before she could write, she was crafting stories and sharing them verbally. While some interests come and go, writing has been a true passion. I am always looking for ways that serve as an outlet for that passion, and for opportunities to learn and share. Reading the works of others of a similar outlook and position is certainly inspiring and having a written piece published for others to read is the ultimate encouragement and validation. Read on if you have a teen writer needing inspiration and encouragement.
Aletheia Writing Magazine is a quarterly publication comprised of literary and artistic works of Christian teens ages 13-19. I received both a print copy of Altetheia Writing Magazine and a digital copy of a previous issue for review.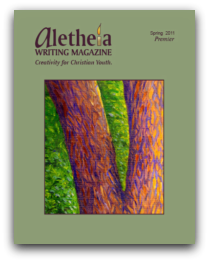 Aletheia Writing Magazine takes teen writers, and their need to have a place for expression, seriously. You won't find watered-down and cutesy works or features. Among the pages of stories, poems, and artwork, each issue also offers a variety of features, included a Writer's Challenge, the Featured Contributor, a book review, Glory to God for the Beauty of Nature, Ancient Ink, interviews, and more.
Regardless of the style of the story or poem, the magazine does have one particular requirement for publication, and that is that all pieces must contribute a final message of hope. The website's explanation is as follows:
This is what differentiates Christians from the rest of the world- they have hope. They have hope that Jesus is truly who He says He is, and that He has conquered sin and death and all of the darkness of this world and opened up the gates of Paradise for humanity. So, even admist the struggle, the hope needs to shine through.


What we're not looking for: sentimentalism, apologetics, legalism, preachiness, plainness, recreations of biblical stories or events, themes that focus on drugs/alcohol, stories or poems that end in hopeless situations.
While some of the published works are more obviously Christian pieces, others are more general expressions of a teen's thoughts on life. While I found quite a bit of variety in the pieces, I did find that all followed the above criteria.
My daughter is currently a subscriber to another literary (secular) magazine that targets teens, and Aletheia reminded us both quite a bit of it in terms of the target audience and the variety of pieces. However, there are a few distinctions worth noting. First of all, my daughter has mentioned in the past that some of the pieces in the other magazine have been outside of her liking as far as content, even venturing into the area of strange and bizarre. The stories in Aletheia Writing were refreshing in that in addition to Christian works, they had much more positive themes in general. Secondly, she felt that the quality and tone of the writings in Aletheia Writing Magazine were deeper and of a different quality and focus. Aletheia's target seems to be older teens and has a more serious tone than other literary magazines for kids that we've seen in the past. For us, this is a very positive difference and I intend to add Aletheia to our subscription list as a result.
Overall, I think Aletheia is an excellent resource for any teen interested in writing, illustrating, and artistic pursuits. You can check out a
sample issue
for yourself to see if you agree.
Aletheia Writing Magazine is approximately 40 pages each issue and is published four times a year. Subscriptions are available for $26/year in the United States and $29/year in Canada. You can subscribe though the
website
, as well as get writing tips, read reviews, submit pieces, and more.
Want to see what others think about this product? Visit the official TOS Crew blog to read
more reviews on Aletheia Writing Magazine
.
Disclaimer: This review was provided as a result of my participation in The Old Schoolhouse Magazine Crew. I was provided the product free of charge in exchange for my honest review. I have received no other compensation. I strive to give a balanced overview of each product, detailing my opinion of both pros and cons and how the product worked for my family. What works for one family may not work for another. I encourage you to read reviews of other Crew members and research sufficiently to determine if any product will be a benefit to your homeschool.