The above Chinese proverb is on the very first page of the Earth Book from AIMS Education Foundation that I recently received for review.
AIMS, which stands for Activities Integrating Mathematics and Science, is a non-profit organization. It has been publishing hands-on instructional materials that build conceptual understanding in mathematics and science since its beginning in 1981 with a grant from the National Science Foundation.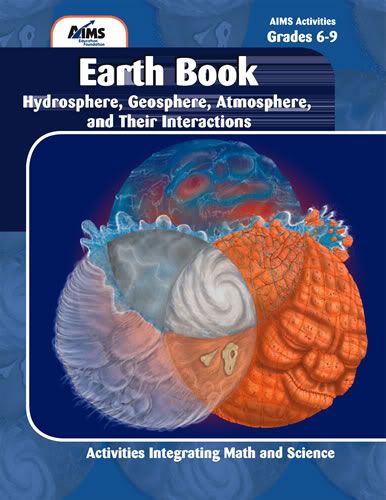 The Earth Book, which is full of hands-on activities about our dynamic planet, is targeted toward grades 6-9. It is broken down into four sections:
Hydrosphere – the water on the Earth

Geosphere – the solid portion of the Earth

Atmosphere – the gaseous layer that surrounds the Earth

Interactions – the unequal heating of land and water and the resulting affects
There are almost 60 topics in all, with several activities each. Each topic has an overview for the instructor that covers the following: topic, key question, learning goal, guiding documents (state standards and benchmarks), math and science topics, integrated processes, materials, background information, key vocabulary, management, procedure, connecting learning, and extensions. It is obvious that a goal of AIMS is to make sure that the instructor thoroughly understands the purpose and goals of the activities.
Following the instructor section are several handouts for the students. The student pages always include one with Key Questions and Learning Goals, which covers the purpose of the activity, and another with Connecting Learning, which gives thought-provoking questions about the activity. Depending on the activity, graphs, diagrams, and other visuals are offered as support material. Many of the activities include "rubber band books". Rubber band books are created by folding pages with important information on the topic and securing with a rubber band as binding. The books serve as a review for the students as well as a way for the students to share with others what they've learned. All of the handouts and student materials are available as PDF files on the included CD.
A 30-page sample of this title is available that explains the approach of the materials and provides the topic titled "Accounting for Water". Be sure to check it out to see how nicely these topics are covered.
Many of the activities are best done as a group and were designed for a classroom. However, most of the activities can be modified for a single student, which is the situation in my family. One of the topics my son selected was weathering, which included 8 activities to explore how processes can change the surface of the earth.
Most of the materials needed were easily found around the house, though this isn't always the case with all of the experiments and you may need to run to the local hardware or craft store. We selected those activities for which we already had supplied. The set up was very simple, though, a definite plus when doing experiments and hands-on projects.
What will happen to chalk when left overnight in vinegar? What about a marble?
If you put some soft clay in the freezer, what will it do to it? How is this like the earth?
Overall, I've found Earth Book to be full of excellent hands-on activities, with detailed supporting materials for the teacher. Aside from the materials, everything is provided, from charts and templates, to worksheets. It is very easy to use and the goal of the experiment - what is to be learned - is very clear. I really like the thought-provoking questions in the Connecting Learning section.
The set-up for some topics might be a little much for one student. For example, one set of activities required stations to be set up for a series of quick activities. This would be perfect for the classroom or a group, but with just one student at this level, I'd actually prefer one more involved activity over a series of simple ones. That said, those leading science clubs or co-op classes will likely love this book. This title would also appeal to families with several students in the same age/grade range. The content is presented in such a way that it would work with many grades, making multi-age grouping very feasible (and preferable, likely). A note, this title states it is for grades 6-9. I felt the upper range was a stretch and that the content and activities were within the middle school range, but not reaching into high school.
While I was exploring the book, I kept thinking how classroom teachers would love this! Coincidentally, while I was penning this review, a fellow homeschooler who had previously been a traditional classroom teacher saw me browsing the title and exclaimed, "I love AIMS! Everything is laid out for you. Oh wow...this is a newer title. I love this! I *want* this book!" I kept a close eye on it for the rest of the time (wink).
You really can't go wrong with a nearly 500-page book full of hands-on activities. My son enjoyed the ones we did, and there are plenty more waiting for us for future exploration. Maybe next time we'll invite some friends over to get the added benefit of group discussion, learning, and exploration!
The Earth Book can be purchased through the AIMS Education Foundation website for $49.95. While you are there, be sure to explore all the other resources that are offered. You may find some of these other products reviewed by other members of the TOS Crew at the official TOS Crew Blog.
Disclaimer: This review was provided as a result of my participation in The Old Schoolhouse Magazine Crew. I was provided the product free of charge in exchange for my honest review. I have received no other compensation. I strive to give a balanced overview of each product, detailing my opinion of both pros and cons and how the product worked for my family. What works for one family may not work for another. I encourage you to read reviews of other Crew members and research sufficiently to determine if any product will be a benefit to your homeschool.