Needing to inject your studies of cultures with a little fun? Griddly Games' recently released
Civilize This!
presents "cultural trivia with an adventurous twist."
Civilize This!
covers topics and civilizations from three categories: Ancient, Medieval, and Modern. The card game with one die can be used as a stand alone game, or as an expansion pack of the
Wise Alec Family Trivia Game
. The play rules are very similar either way.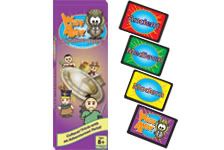 Each person rolls a die on his or her turn. Rather than numbers, the die has six different colors. Red indicates the player draws a card from the Ancient category, green is Medieval, and yellow is Modern. There is a purple side that prompts a draw from the Wise Alec card pile (explained below). The blue side of the die allows the player to pick which category and the orange side means his or her opponent can select. The bonus with the latter is that if the player answers correctly, double points are earned!
Each card has two levels of questions on a similar topic, earning 3 or 7 points, with the higher being the more difficult. The player can select which level question, or game rules can be structured such that players of certain ages get a certain level question. A winner is determined either by a predetermined point goal or time limit. There are no real hard and fast rules with this game and it is completely open to customization (you tweakers will be pleased!).
I played several rounds of this game with my son one afternoon while we were stuck upstairs for the day while some work was being done on our house downstairs. The age on the box says ages 8 and up. Don't let that deceive you...this 40-something had a hard time answering a lot of the questions. I made it a point to select only the 7-point questions so as to not have an adult advantage, but I think I should have stuck to the 3-point ones! A deal was made with my son that if he attempted the 7-point question and got it wrong, he could then take a stab at the 3-point question (my sneaky way of getting double the learning in). We played until the first person reached 50 points.
My son didn't feel at a disadvantage playing with his "wiser and older" mother, because I apparently really stink at trivia. So, what did my son learn, other than his mom will never appear on
Jeopardy
?
In New Zealand, Haka was a ritual traditionally performed before which kind of events? Answer: war (Modern, 7 pts)
What tool did the Ancient Egyptians use to measure the water level of the Nile? Answer: the Nilometer ~ of course! (Ancient, 7 pts)
During which century did the Aztecs settle Mexico? Answer: 13th (Medieval, 7 pts)
In Thailand, if the bus is full and a child and an adult get on, who will be offered the seat first? Answer: the child (Modern, 3 pts)
Where did the Ancient Hindo game of "Snakes and Ladders" come from? Answer: India (Ancient, 3 pts)
When Aztec people made small purchases, they used these beans as money. What were they? Answer: cacoa beans (Medieval, 3 pts)
Of course, all this learning is occasionally broken up by a request to do your favorite dance move (Wise Alec, 2 pts) or a disappointing point deduction for using your left hand to eat in India (Wise Alec, -2pts), giving the game some unexpected twists and turns.
We ended up playing several rounds. With about 50 cards in each category, and two questions on each, we didn't even put a dent into the questions. By the time we get through all the questions, I suspect we'll be ready for a refresher course on ones we've already covered!
Civilize This!
was a lot more fun than I expected it to be, given it exposed my ignorance on various cultures. I like the flexibility it offers with the suggestions of optional ways to play and it is very portable to take on the go. This would be the perfect game to play when the kids needed a little break to mix things up in their studies, but you don't want their brain to go to mush for the day. Just adjust the time or point limit to fit the amount of time you have to play. The focus is on learning, but the Wise Alec cards throw a bit of extra fun into the game. When isn't humming a Mexican Mariachi tune fun? (and worth 3 pts to boot!)

Civilize This!
is available at a variety of online retailers, and perhaps in a store near you! You can find
where to buy
this fun and educational game at the
Griddly Games website
. While you are there, be sure to check out some of the other game offerings.
Want to see what others think about this product? Visit the official TOS Crew blog to read
more reviews
on
Civilize This!
and a similar game,
Nature Nuts
.
Disclaimer: This review was provided as a result of my participation in The Old Schoolhouse Magazine Crew. I was provided the product free of charge in exchange for my honest review. I have received no other compensation. I strive to give a balanced overview of each product, detailing my opinion of both pros and cons and how the product worked for my family. What works for one family may not work for another. I encourage you to read reviews of other Crew members and research sufficiently to determine if any product will be a benefit to your homeschool.